ALL-IN-ONE CRICOTHYROTOMY FIELD INSTRUMENT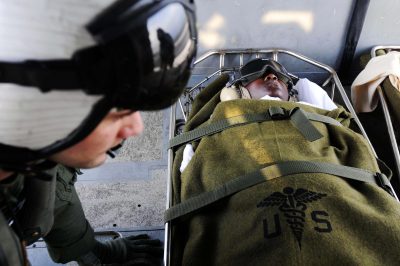 Wolf Technical Services received a Phase II SBIR award in 2015 to continue development of an innovative, low cost, all-in-one surgical instrument for performing cricothyrotomies and managing airway trauma on the battlefield, with improvements aimed at ultimately reducing mortality rates associated with these procedures.
The Wolf Technical WolfCric* is designed to be a substantial improvement over the cricothyrotomy kits that are currently used by medics and physicians in the armed forces today. By integrating the tools that are used to perform this procedure into a single, easy-to-use device, the armed forces will be able to streamline cricothyrotomy training and remove the variability that currently exists when teaching and performing this procedure. The WolfCric* reduces procedural errors by presenting the user with an accurate but simplified picture-driven tutorial, and also by automating key steps in the procedure. This device features an ergonomic yet ruggedized form factor designed specifically for use in battlefield environments. Wolf Technical Service's WolfCric* reduces procedural time to reestablish the airway thereby increasing the chance of survival.
* Working name